This was a dress I picked up four years ago at the local Goodwill. I have a weakness for Churchill polka dots, and couldn't bring myself to get rid of it....even after it no longer fit through the bust! I've always thought I could do something with it....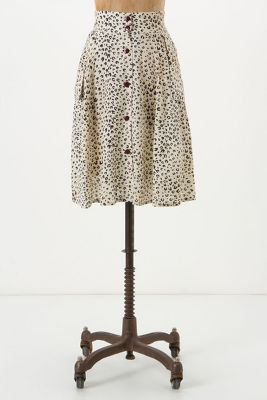 Perfect! A skirt with buttons up the front. Why didn't I think of that? The only trick is to make the cute waistband. (I did not add the external pockets...but I have enough fabric left over that maybe I'll give it whirl.)
While wearing the dress, mark how high you want your waistband + 1/2" for seam allowance (top pin). It helps if that mark is right below a button. You'll be adding a new top button at the end and you'll want that "blank" fabric for spacing.
With a second pin, mark the bottom of your waistband. On my dress, this was about 4" below the first pin. If this pin in near a button, make sure you leave enough room to stitch.
Unbutton the dress and carefully cut across where you marked, following the natural curve of the dress. You now have your two pieces: waist + skirt.
Hem the top of the waistband.
Now the fun part. With right sides together and raw edges lined up, carefully pin the waistband to the skirt. Important: If your dress was sewn in panels (like mine), make sure the seams line up. I pinned the seams first and then the spaces between.
Sew these pieces together. It may seem unnatural because of the fabric's slight curve, but don't sweat it. Just keep it as smooth as possible and don't pull the fabric taut. As long as your seams (and edges!) are lined up, it will be fine. :)
Cut and hem skirt to whatever length you desire. Mine is 22" from waist to hem.
Using one of the buttons from the now discarded top, I added a button to the top of my waistband. Though you could easily add a new button hole, I simply sewed in a snap and placed the button on top.
This fabric was incredibly difficult to photograph. Slightly shiny + dot pattern is a bad combo.
And there you go! I may take it in a bit more so it sits higher on my waist. The length is perfect - this will be a great teacher skirt.
Any suggestions for what I should do with the extra I cut off the bottom??