While browsing Anthropologie's site for some ideas, I came across this cutie pie.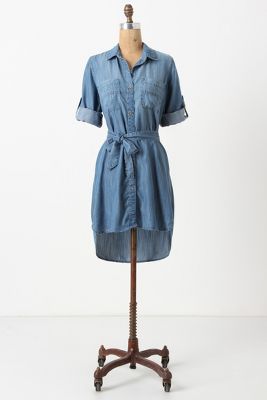 Adorable. And only $148.00.
But look what I found at the thrift store for $4.00...
I know, equally adorable, right? It's not chambray like the original dress, but it's a lightweight enough denim that it falls nicely. I thought....why not?!
Shorten dress to the length you want the back to be. It's a shirtdress, so you'll shorten the front later. Save that fabric!
If needed, take in the sides and darts.
Reshape the hem to resemble a shirttail. I used pins to create the shape I wanted and then carefully cut it out.
Since I'm wary of flashing too much thigh, I didn't cut a very steep arch. My arch was 4.5" at its tallest point, and it tapers to 1.5" in the front.
Then I pinned my cut out shape to the other side and cut again.
Hem and you're done!
(Well almost. I created the rolled sleeves and belt from the cut off fabric. Unfortunately I do not have pictures for those steps, but I'm happy to answer questions.)